Courses in prayer and spiritual warfare
Praying To Get Results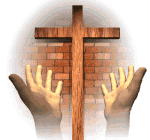 A  course on the theology and practice of Intercessory Prayer.  You will learn the biblcal basis of prayer and be a more confident prayer warrior!
Enrollment: Just fill in the very simple enrollment form
Time: About 90 minutes per topic, there are only 6 topics. Self-paced. Do one a week, one  a month or all at once! 
In each topic you will:
a) Listen to an audio MP3 lesson
b) Reading the accompanying notes. 
c) Comment in a discussion forum
The 6 topics are:
The Basics of Prayer
Praying The Names of God
Praying The Promises and the Scriptures
Praying As Jesus Prayed
Spiritual Authority
Spiritual Warfare
Cost: A donation of any amount.
See instructions at right for how to enroll. Make sure you say "enroll me in the prayer course" in the email!!